Lucie D and the Immortals
Episode # 74 – Part 1
Episode # 75 – Part 2
---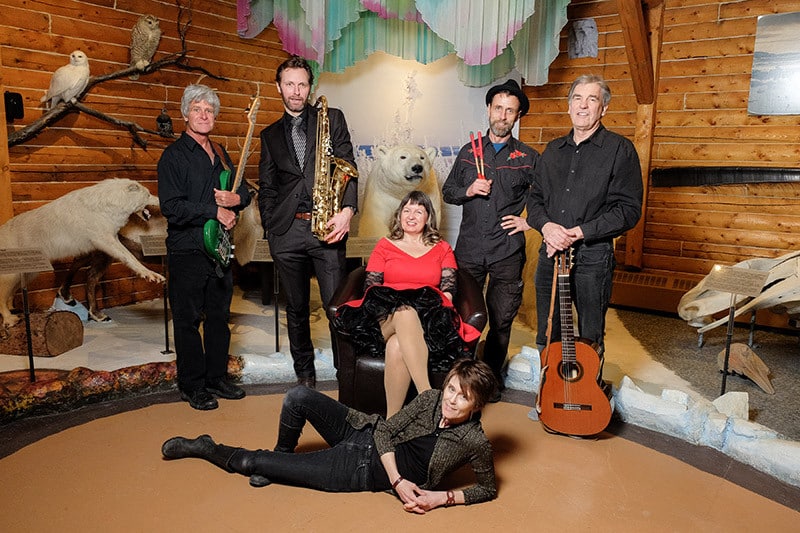 We present two episodes featuring the band "Lucie D and the Immortals" from Whitehorse, Yukon.
This super fun six-member group is fronted by vocalist Lucie Desaulniers who grew up in St. Elisabeth, Manitoba. Lucie is from a long line of successful singers, dancers and actors and she hit the stage at the tender age of ten. Lucie studied pop vocals at the Royal Conservatory.
In 1985 she made the move up north to the Yukon where she became the lead singer/songwriter for the folk-rock band "Inconnu". They performed songs in both English and French, released two CDs and played at major festivals in western Canada and Alaska for more than 10 years. Lucie also had appearances on national TV and radio.
After a long period of hiatus which started in 2000, Lucie recently rediscovered her passion for the performing art. In 2016 she was joined by some of her long time musician friends, forming her new band "Lucie D and the Immortals".
The "Immortals" are Lonnie Powell on drums, Paul Bergman on upright bass, Olivier de Colombel on saxophones, Andrea McColeman on keys and Paul Lucas on guitars.
The band performed mainly Latin Jazz originals and covers as well as R&B covers at the St. Elias Convention Centre in September 2017.
A big "Thank You" goes to "Jazz Yukon" for co-sponsoring this event.