Yukon Bands at the KMBF 2017

---
This is the last of our special three-part series highlighting music from the 2017 Kluane Mountain Bluegrass Festival (KMBF) in Haines Junction, Yukon. Since 2003, this popular festival has been featuring local bands and bands from across Canada and the United States.
This episode features four Yukon bands that performed at this year's Bluegrass Festival. These amazing local bands roused the audience to their feet with a colourful spectrum of music ranging from Western Swing, Country, Jazz, and Celtic fiddle music. We recorded these events in June 2017 at the St. Elias Convention Centre in Haines Junction, Yukon. A special thank you to the Yukon Bluegrass Music Society for all their support.
---
West Dawson Ramblers
The first band on today's program is the "West Dawson Ramblers". This group is fronted by veteran musician Kevin Barr. For this performance he was joined on stage by Yukon musicians Rob Bergman (bass), Bruce Bergman (guitar, vocals), Deb Bergman (vocals), and George McConkey (harmonica). The band also included Marc Ladouceur (mandolin), and Tim Jeffery (dobro, pedal steel guitar and vocals). The latter two musicians hail from Alberta.
---
The Moanin' Mountain Boys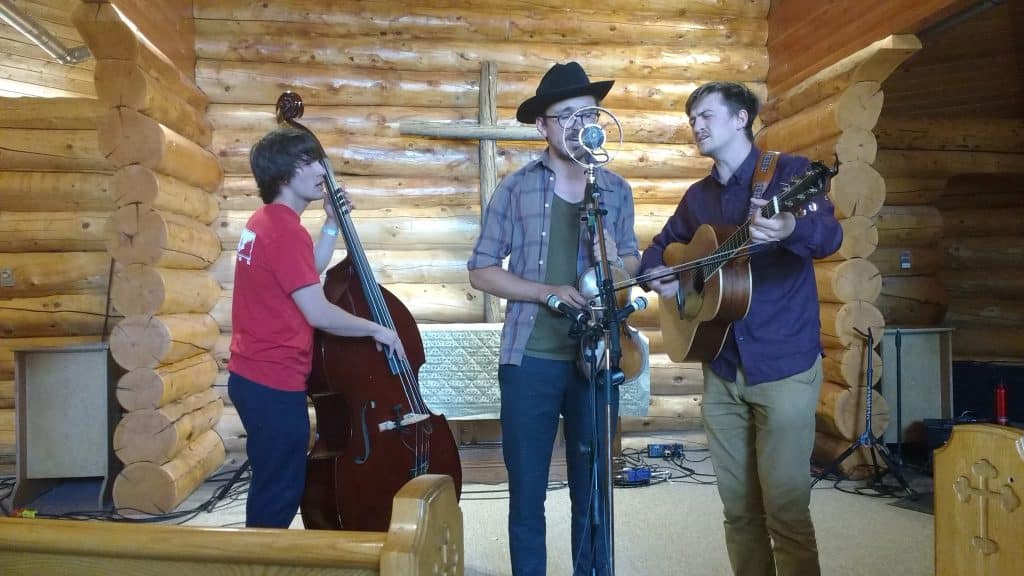 Formed at last year's Bluegrass Festival, The "The Moanin' Mountain Boys" are three young Yukon musicians that thrilled the crowd with original compositions inspired by Bluegrass, Old-time, Swing, Jazz, and Canadian Fiddle music.
Two of the boys, Kieran Poile on Fiddle, and Graeme Poile on Guitar and Vocals, are brothers. The third young man, Jerome Belanger, played Bass. Let's give a listen to the "Moanin' Mountain Boys."
https://www.facebook.com/Moanin-Mountain-Boys-1207073999378149/
---
Katie Avery
Katie Avery gave a solo performance. Although describing her performance as "solo" is perhaps a bit misleading. With her five- string fiddle, voice and looper, she creates a whole "folkestra" on her own.
Katie grew up in Ontario where she started studying violin at the local Suzuki School when she was 5 years old. She went on to complete a Bachelor of Music at the University of Toronto in 2010 before moving to Whitehorse to teach violin. She has produced a number of recordings, including her first solo album, "Lake Annie," which was released in 2015. Having grown up in a folk-music family, Katie is an avid fiddler as well as classical player.
https://katieavery.musicteachershelper.com/
---
The Swinging Pines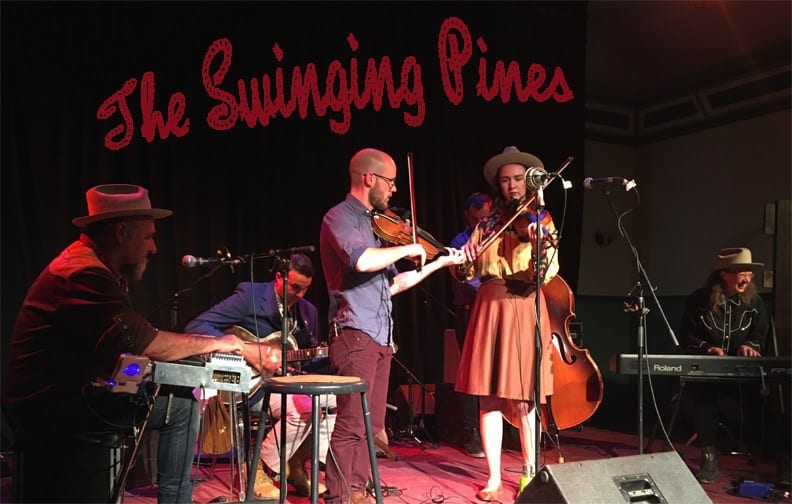 "The Swinging Pines" was formed to celebrate the joyful sounds of Western Swing and the music of Bob Wills, Spade Cooley and Cindy Walker. "Swinging Pines" also highlights the connection between Old Time fiddle music and Dixieland jazz; key elements in both Western Swing and Bluegrass.
This band features Bob Hamilton on pedal steel, electric mandolin and vocals; Sarah Hamilton on fiddle and vocals; Annie Avery on honkytonk piano; Patrick Hamilton on archtop guitar, tenor banjo, drums and vocals; Rob Bergman on bass. Special guest is this year's Juno Award winner for best instrumental album, Trent Freeman on fiddle.