The Horse Van
---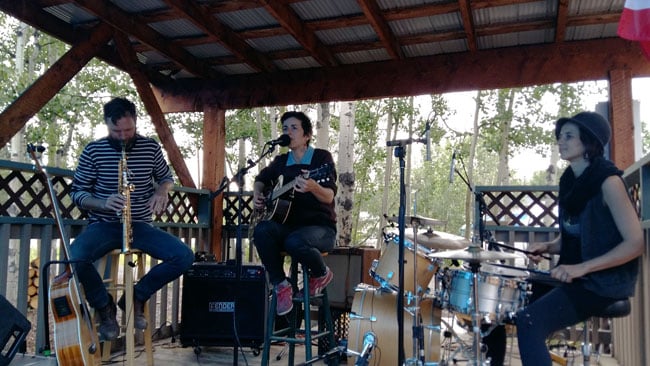 This episode features the jazz folk duo "The Horse Van" who performed at the Village Bakery's out door stage in Haines Junction, Yukon, in the evening on Canada Day, 2016.
The duo"The Horse Van" are sisters Caroline Allatt and Brigitte Desjardins who grew up in Quebec. Their parents fostered the girl's musical talent in the early years, performing frequently as small family band.
Brigitte now calls Whitehorse in the Yukon her home, while her older sister Caroline settled in Vancouver, B.C. as professional musician.
Because the sisters are separated by 1800 miles, opportunities are rare for Caroline and Brigitte to perform together. So when Caroline announced her visit in Whitehorse, the women quickly made plans to perform as "The Horse Van", a word play, on the names of the respective cities they call home.
After just a few days of rehearsal the duo was ready to perform. Caroline (guitar and lead vocals) and Brigitte (on drums) were joined on stage by Whitehorse jazz musician Olivier de Colombel on tenor saxophone and acoustic bass guitar.
A hearty "Thank You" to the Village Bakery for making this event possible.
Caroline Allatt
Caroline grew up in a family of musician and picked up the guitar in her early teenage years. With her dad Reynald and her sister Brigitte Desjardins they performed corporate gigs around Montreal for several years. In 2008, Caroline graduates with her Diploma of music composition and arrangement from CEGEP St-Laurent. She records her first EP with the Production Guitare Verte in Chateaugay in 2010. After moving to Vancouver, she records a second one in 2013 with the producer Jesse Waldman. After, a year of full time busking plus managing different open mics and playing with many bands as a guitar/bass player, she devotes her skills to play with Ripple Illusion band. Their first album to be released in the fall 2016.
https://carolineallatt.bandcamp.com/
https://www.facebook.com/Caroline-Allatt-140989752619304/
Brigitte Desjardins
Brigitte  plays drum set since she was 11 years old, and grew up in a very musical family. Since then, she has been involved in many different musical styles; folk, rock, pop, classical, blues, jazz… Throughout her life she has always been dedicated to her craft as a percussionist and strive to take her drum skills further."
Olivier de Colombel
Olivier started playing the saxophone at 11 years old in the south of France. After classical studies, he turned his interests towards jazz, composition, arrangement and improvisation and studied in a music conservatory in Paris. Influenced by music styles such as classical, Indian music, blues and folk, he also plays an assortment of wind instruments and the guitar. After playing for 10 years with different bands in Paris where he studied musical-therapy as well at the university, he moved recently to the Yukon looking for new musical and artistic adventures…