Wild Ponies
---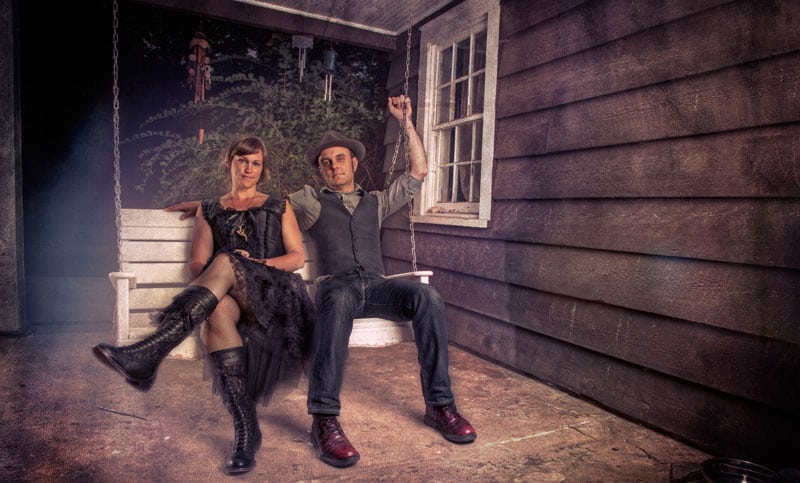 This episode features the duo "Wild Ponies" from Nashville, Tennessee.
The "Wild Ponies" are Doug and Telisha Williams whose musical story began in Martinsville, Virginia. The married couple held day jobs after college, but booked gigs on the weekends, playing in cover bands. Soon they began writing their own songs, and in the process, discovered their fondness for the region's music roots. It was then that Doug and Telisha intuitively realized that songwriting and performing is their calling.
The duo's music draws on old time tradition while embracing the fierce spirit of the songwriters who inspire them, musicians such as Steve Earle, Kathleen Edwards, and Lucinda Williams, to name a few. In one way or another, the majority of their songs deal with loss, rejection, abuse, or starting over.  Their songs are about trying to give some sort of voice to people who don't necessarily have a voice, or don't know how to speak out on their own.
Rather than uproot themselves and relocate to Nashville, the duo decided to first build their music foundation right at home. To do that, they began releasing albums in Virginia, and honed their skills by touring heavily.
Presently, "Wild Ponies" performs up to 150 shows a year throughout the US, Canada and Europe, captivating audiences with a magnetic and stunning stage presence. But, no matter how far they roam, Doug and Telisha always find their way back "home", a place that holds tight to the intricacies and contradictions of life in the southern US today, a place where old time religion, superstition, rundown bars, gravel parking lots and abandoned factories tell stories that become songs.
"Wild Ponies" released their most recent album, "Things That Used to Shine", in 2013. It garnered widespread critical acclaim and spent 6 weeks in the top 20 of the AMA Radio chart, and over 20 weeks in the top 40.
Jam Live! recorded Doug & Telisha at a house concert in Haines Junction on March 5, 2016. Their performance drew us into a wild emotional ride. Within just one set we were drawn to our feet in laughter and applause, then back to our seats carefully listening, then over to the kitchen counter to get another beer.
While the duo is off the road, Telisha trains for long-distance races, and paints as a form of self-expression. Doug also runs, and, as well, has started writing fiction again when he's not renovating their charming home in East Nashville. Looking ahead, their ultimate goal is to perform on the Grand Ole Opry.
The duo performed at a house concert in Haines Junction, Yukon on March 5th, 2016.
A special thanks to Sarah and Georgie for welcoming us back to their lovely home for this concert.