Double Feature:
Nuala Kennedy & Eamon O'Leary
Amber Suchy
This episode features two groups from two big cities.
In our first segment we present Irish musicians Nuala Kennedy and Eamon O'Leary, who both now live in New York City.
In the second segment, we are excited to introduce emerging singer-song writer Amber Suchy, who calls Edmonton, Alberta, her home.
---
Nuala Kennedy & Eamon O'Leary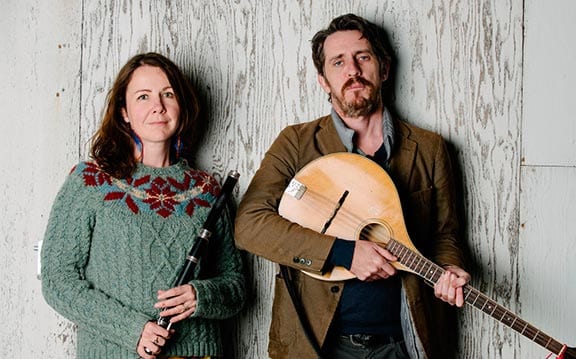 Long time friends, Nuala Kennedy and Eamon O' Leary are collaborating musically for their national and international tours. Both are widely respected members of the traditional music community, and noted for their instrumental skills as well as their diverse repertoire of traditional and contemporary songs.
Nuala's singing and flute playing are rooted in the traditional music of Ireland and Scotland. She draws from her creativity and depth of imagination to lift traditional tunes into her own musical sphere. That enables her to seamlessly connect old style music with modern audiences.
Nuala began by studying classical piano in Dublin, but it was in Edinburgh where she found her passion for traditional music and where she honed her instrumental skills. She later earned a Masters Degree in Music Performance and Composition.
To date Nuala has released seven CDs.
While growing up in Dublin, Eamon O'Leary developed a strong interest in Irish music. His first instrument was the guitar, which he started playing while in his teens. When he moved to New York City in 1991, he met guitarist John Doyle, fiddle player Patrick Ourceau and other New York based musicians, and has since become a fixture in the city's thriving Irish music scene.
Eamon is joining Nuala on guitar, bouzouki and vocals.
http://www.nualakennedy.com/
http://eamonoleary.com/
JAM Live! met up with the duo at a house concert in Haines Junction, Yukon, on September 22nd, 2015 where we recorded their performance.
---
Amber Suchy
Amber is a rising artist whose charming personality is as remarkable as her stark and intimate songs that paint windows into her old soul. Amber has been at the foundation of Edmonton's music scene for a long time, getting her start as a vocalist, fronting Canadian Ska band King Muskafa.
Amber released her first self-titled solo EP in 2013.
On October 18, 2015, Amber was joined by Ben Sures from Alberta and Kim Beggs from Alberta for their concert at the St. Elias Convention Centre in Haines Junction.
http://ambersuchy.bandcamp.com/
Here are Amber Suchy (Vocals and acoustic guitar), Ben Sures (Electric guitar and harmony vocals) and Kim Beggs (Percussion and harmony vocals).