Black Umfolosi
---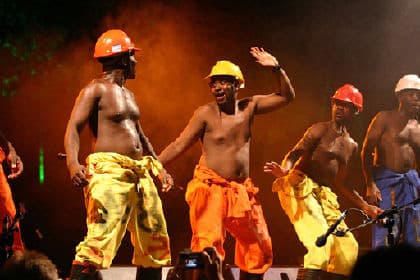 This episodes features the acappella and traditional dance group Black Umfolosi. This group was formed in 1982 by school friends in Bulawayo, Zimbabwe, who named themselves after the Umfolozi Omnyama River in South Africa- to where their ancestors can be traced. In 2009 The Black Umfolosi 5 continued to present their spectacular songs and dances thrilling audiences worldwide –  including Europe, USA, Canada, Australia and Asia. They have represented Zimbabwe at international events such as Expo 1992 in Seville, Spain and the 1994 Commonwealth Games in Victoria, Canada.
Their performances are energy driven and completely engaging, mixing a great gentleness of spirit and song with an exuberance in dance. Their trademark harmonies mixed with intricate rhythms, clicking and clapping are highlighted during their brilliantly choreographed shows with a full range of movements from subtle to vibrant stomping and leaping! Their famous Gumboot Dances showcase the traditional styles and rituals of the South African mining regions and are a particular crowd-pleaser.
Black Umfolosi's visit to Haines Junction on December 2nd, 2014 could not have come at a better time to warm up the spirits of Junction folk with soothing sun soaked African tunes and rhythms.