Lazy Mike & The Rockin' Recliners
Episode # 29 – Part 1
Episode # 30 – Part 2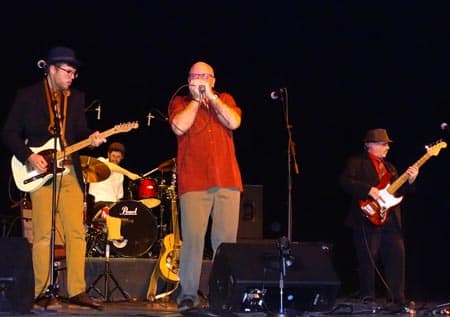 JAM Live! episodes 29 & 30 feature the Vancouver Island based harp driven blues band Lazy Mike & The Rockin' Recliners.
On November 8th, 2014, Lazy Mike and his band performed for a dance at the St. Elias Convention Centre in Haines Junction, Yukon.
Contrary to their name "Lazy Mike and The Rockin' Recliners", this band has a reputation as being "one of the hardest working bands on Vancouver Island". For the last six years, the band has been very busy performing at local bars and festivals in British Columbia. Mike and his band have opened for Bill Johnson, Jim Byrnes, David Gogo as well as Harpdog Brown.
They released their first album "Life's Been Pretty Good" in 2010. The name of their latest album is "Rollin' Through this World" which was published just recently.
Lazy Mike and The Rockin' Recliners are:
Mike Mallon on Harp and Vocals
Carson Mallon on Guitar & Vocals
Bob "Blue" Berry on Bass & Vocals
Evan Matthiesen on Drums.
http://www.lazymikerockinrecliners.com/