Community Special
Celtic Tyde
---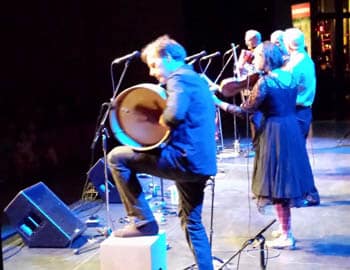 JAM Live! usually features professional or Semi-professional musicians from Canada and across the globe. However, we thought that you may also be interested in hearing and learning about the great music by performers who are new to the music scene. JAM Live! Community Special episodes are dedicated to performances by very talented but lesser known musicians from Yukon communities.
This episode features the band "Celtic Tyde" from Whitehore, Yukon. We recorded the band at the open air stage of the Village Bakery in Haines Junction in June 2014.
Celtic Tyde was formed in November 2013 and hit the ground running. Only seven months after they practiced for the first time, the band opened for the Irish Descendants at the Yukon Arts Center in Whitehorse. Celtic Tyde plays traditional Irish/Scottish jigs and reels and combine them with upbeat vocals. The band's high energy performances is answered by the audience with rousing toe tapping, dancing and sing alongs.
Celtic Tyde are:
Boyd Campbell- lead vocals guitar – is joined on stage by
Ken Taylor- lead guitar – harmony vocals
Chic Callas- Accordion- pennywhistle- mandolin- harmony vocals
Jerome McIntyre- bodhran- cajone
Katie Avery- fiddle- harmony vocals
 A big "Thank You" goes out to the Village Bakery in Haines Junction for all their support.