Eufórquestra
---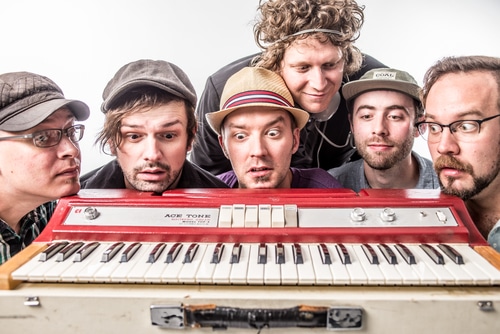 This episode features the funk fusion band Eufórquestra from Fort Collins, Colorado. This six member band's ever-evolving sound has been influenced by music from all over the world with an emphasis on funky groove. For over a decade the band has energized dance floors all over the US, blending the roots of funk, soul, afrobeat, reggae and dub.
With almost 1,000 shows under their belt, Eufórquestra shows no signs of stopping. A perpetually heavy tour schedule keeps the band and fans happy, as performing live in front of an audience has always been the band's top priority.
Eufórquestra are:
Mike Tallman – Guitar, Vocals
Austin Zaletel – Saxophone, Vocals
Matt Bricker – Trumpet
Matt Wright – Keys, Vocals
Otis Lande – Bass
Craig Babineau – Drums
A big "Thank You" to the organizers of the Southeast Alaska State Fair in Haines for an extended weekend of fun and fine entertainment. We would also like to thank the crew of Southeast Alaska Sound from Juneau, for the great venue sound and for recording this event (July, 2018).